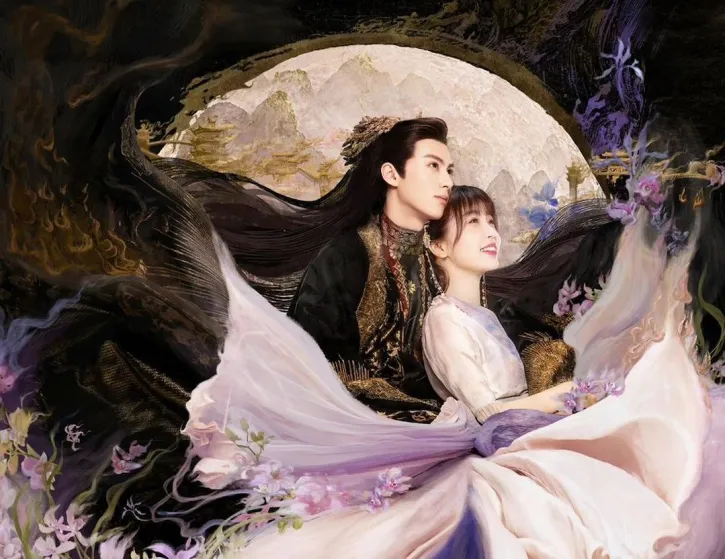 I watched too many Asian TV dramas in the last year, but hey, at least many of them have taught me things about writing. Some of these I did view at least in part at 1.25/1.5x speed (such as Hotel del Luna) and I have a habit of skipping past flashback montages and lengthy romantic stares or unnecessarily long walking sequences. XD Anyway, here's my overview and recs!
Worth the watch:
Top Fav: Love Between Fairy and Devil (Netflix) C-drama
Xianxia fantasy
A fairy born from an orchid with a damaged root accidentally frees the fairy's greatest enemy, the immortal leader of the rival Moon Tribe, and unknowingly magically ties their lives together. The emotionless Moon Supreme must protect & serve Orchid to protect his own life while plotting revenge. Slow-burn sort of enemies-to-lovers, love triangle, kind of age gap, outstanding character growth for both leads. Love for Dylan Wang.
Who Rules the World (Netflix) C-drama
Wuxia, romance
Rivals from the martial arts world get drawn into a game of plotting and conspiracy as rulers seek control of the empire and a secret force moves behind the scenes. Slow burn rivals-to-lovers, martial arts battles, bittersweet, mostly happy ending. Love for Zhao Lusi.
The Long Ballad (Viki) C-drama
Historical, romance
A princess on the run plots revenge, but learns about true service, sacrifice, and love as she goes on adventures and keeps running into a general from her people's greatest enemy. Slow burn enemies-to-lovers, noble love interest, lots of heavy themes and tragedy along the path to a happy ending. Love for Leo Wu and Zhao Lusi (who plays a secondary character).
Love Like the Galaxy (Viki) C-drama
Historical, romance
A serious general and a mischeivous young woman fall in love and face various challenges. He falls first, slow burn, revenge-driven male lead who pushed the villain line a few times for me, communication issues but cute couple. Love for Leo Wu and Zhao Lusi.
Business Proposal (Netflix) K-drama
Office/billionaire rom-com
After going on a blind date for her friend, a young woman ends up agreeing to fake-date her boss–but he doesn't know who she really is. Guy is a bit of a bully at first and lots of lies so I didn't love that, but good growth and hilarious! Most I've laughed watching any of these shows. You might crave Korean fried chicken.
My Roommate is a Gumiho (Viki) K-drama
Rom-com/PNR
A male gumiho approaching his 1000th year meets a college student studying history who is his last chance to absorb enough human energy to become human. Friends-to-lovers, inhuman love interest, age gap, some slightly frustrating pacing toward the end, male lead is often adorable. You'll definitely crave fried chicken. 😆
Hotel del Luna (Netflix) K-drama
PNR/contemporary fantasy
A young man is forced into a job managing a hotel for ghosts that helps souls with unfinished business cross to the afterlife–and his hardest task will be helping the hotel's owner resolve her unfinished business from hundreds of years prior. There's a bit of slow-burn romance, but as the female lead is dead, it doesn't have a traditional HEA, but I still found the bittersweet conclusing good/fitting. Some creepy parts and some hilarious parts and good character growth.
Maybe worth the watch:
~3 stars: Dating in the Kitchen (Viki) C-drama
Billionaire rom-com
Wannabe chef keeps accidentally having terrible, chaotic run-ins with a CEO looking to buy the hotel where she works, but then he falls in love with her cooking. 15-year age gap revealed many episodes in that made me uncomfy, male lead could sometimes be controlling, communication issues, but also the couple was adorable together, the male lead was handsome, the cooking angle was often fun, and "rich guy is clueless about his girlfriend's lower-class life but is trying" is always funny. There were parts I disliked and an irritating subplot at the end, but other parts were adorable or hilarious or made my "sworn off dating" self want a boyfriend, it ended really well, and again love for Zhao Lusi, so…50/50. 😆🤷‍♀️
Alchemy of Souls (Netflix) K-drama
Historical fantasy
A powerful sorceress in a blind woman's body encounters a man from a prestigious family, who wants her help to change his destiny (Google's synopsis). I really liked this one until the last episode which almost ruined it. There's an in-progress season 2 which I haven't started yet because I'm waiting to hear if it ends well, lol. The characters and effects are great though.
Not worth the watch:
Princess Weiyoung (Netflix) C-drama
Historical, romance
This one has a very bittersweet, barely happy ending that didn't exactly feel satisfying after the long, drawn-out, forbidden romance and the MC's fall and rise and fall and rise and fall and rise…
Started and abandoned:
The Legend of Fei (wuxia) – so slow and unclear objectives
Ancient Love Poetry (xianxia) – age gap that is immediately awkward and the relationship feels very unhealthy/unbalanced in the first couple of episodes
Once Upon a Small Town (modern K-drama) – I might pick this one back up eventually as it was kinda cute and humorous, it was also just a bit slow and less compelling
What's Wrong with Secretary Kim (K-drama rom-com) – the male lead is beyond insufferable and it's slow

On my potential to-be-watched list:
C-dramas:
A Female Student Arrives at the Imperial College, Shining Just for You, New Life Begins, Eternal Love, Unchained Love
K-dramas:
The Uncanny Counter, The King: Eternal Monarch, Guardian: The Great and Lonely God

I need to cut back on TV watching, but…any recs for me anyway or opinions on any of my possible TBW shows? 😅 (I prefer mostly happy endings)