A princess. A cursed prince in hiding. Two kingdoms on the edge…
Pre-order A Thieving Curse, a Young Adult Beauty and the Beast story with surprising twists, and get free bonus swag!
Swag pack: clear "I do not purr" dragon art sticker, holographic "He's not a monster. Not where it matters. Not in his heart." dragon sticker, "Ah, but appearances can be deceiving, can't they, Princess?" pearlescent cover art bookmark. Paperback and hardcover pre-orders from retailers also get a signed bookplate.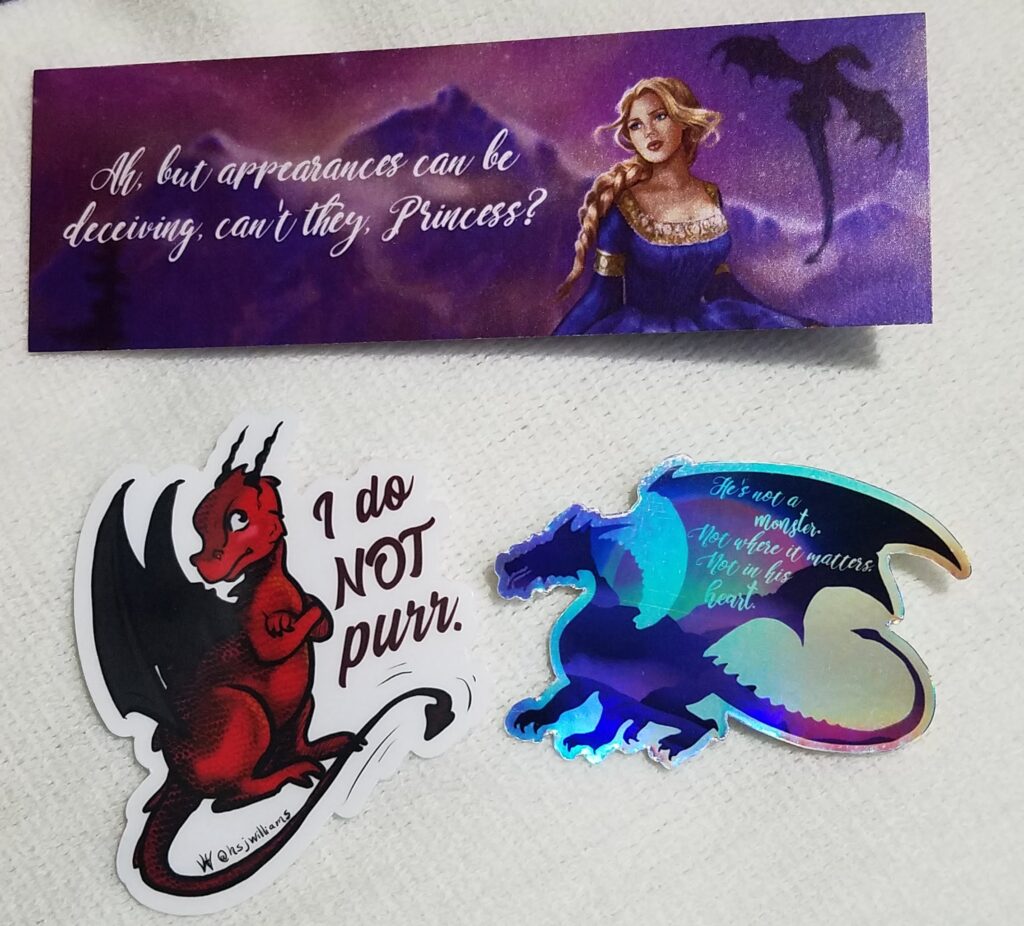 Purchase A Thieving Curse in any format from any retailer and send a screenshot of your receipt/proof of purchase along with your name and mailing address to selina[at]selinargonzalez.com by April 7, 2021. Signed orders from Selina automatically get bonus goodies unless you specify "no swag" in the notes on checkout. Bonus goodies while supplies last.
Ebook – special pre-order price of $2.99!
Limited book box: selinargonzalez.com/product/bookbox
A Thieving Curse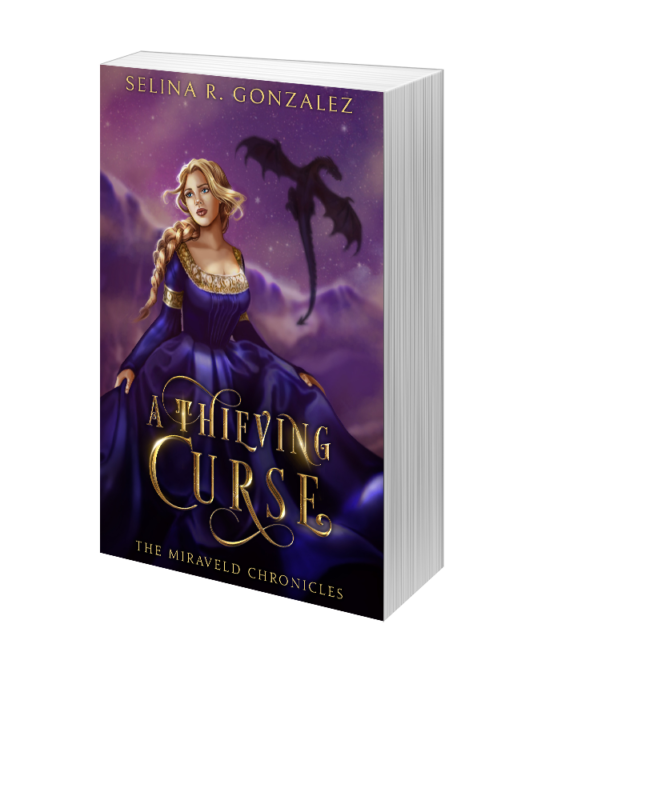 A Beauty and the Beast reimagining with surprising twists.
A princess finds herself torn between her family and duty and a growing affection for a cursed man.
Order Now!
About the Book
A REALM MAKERS READERS' CHOICE REALM AWARD 2022 FINALIST
She must marry a prince for the good of her kingdom…but the man cursed with dragon features who saved her life is the wrong prince.
Raelyn would love a simple life getting up to mischief with her brother and being valued for herself, not her title, but she's a princess with the weight of a peace treaty on her shoulders. When Raelyn gets separated from her family on the way to her arranged marriage to the crown prince of the neighboring kingdom, she is saved by a beast… But now he won't let her leave. Not only does the monster claim to be Alexander, the rightful crown prince living in hiding, but he refuses to escort her back to her family. Trapped in dangerous mountains with an infuriating, fire-breathing dragon-man, Raelyn fears for the future of her kingdom and the safety of her family. And yet… The kindness of the cursed prince's human friends surprises her. When Alexander reveals the shocking truth of his curse, she begins to see past the monstrous exterior to the prince's human heart. But will Raelyn have the courage to admit her growing love for a cursed man? And will her family manage to salvage the treaty when they think her dead?
Curl up today with this Beauty and the Beast retelling with surprising twists!
This standalone is the first in an in-progress series of connected, semi-standalone fairy tale retellings with very low spice romance.
(Warning for possible triggers: some violence, death, unwanted kisses [antagonist].)
Miraveld Series FAQ
Disclosure: The Amazon & IndieBound links below are affiliate links, meaning, at no cost to you, I will earn a commission if you click through and make a purchase.
Other Books in "The Miraveld Chronicles"
Disclosure of Material Connection: Some of the links in the page above are "affiliate links." This means if you click on the link and purchase the item, I will receive an affiliate commission. I am disclosing this in accordance with the Federal Trade Commission's
16 CFR, Part 255
: "Guides Concerning the Use of Endorsements and Testimonials in Advertising."
Share this with your friends!